Gifts for kids by age
Finding the best gift for the special child in your life shouldn't be complicated. With every birthday your child is getting older and his or her preferences for toys can change significantly. Girls and boys may have different preferences for toys as they are growing up. Moms and dads, grandparents, uncles and aunts can find a variety of educational and developmental gifts that will help the child to gain new skills and have fun in the process. Providing the child with fun and mind stimulating activities is so important during every stage of childhood. Age appropriate toys can stimulate imagination and expand the child's capabilities. Giving a six year old kid a toy that is more appropriate for a ten year old may leave the child disappointed and uninspired, while finding the age appropriate toy that expands the child's interests and teaches him or her a new skill can make all the difference. We all want to give the gifts that make our children happy and help them to develop. Find toys and games for children of any age and give the child a special present that will bring smiles and many hours of fun.

Best gifts for children by age

Gifts for boys and girls age 0 to 2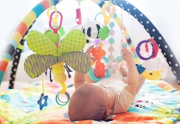 Little ones go through many developmental milestones from birth until the age of two. As the baby is gaining control of his or her body, bright colors, large shapes and interesting sounds can help the baby to learn about the world around. Toys such as the Fisher-Price Deluxe Kick 'n Play Piano Gym & Maracas Bundle or similar playmats keeps the baby busy and parents happy. Great for tummy time. Prices for baby activity playmats range from $29.99 to $89.99. There are many reasons why a playmat makes a wonderful gift for a family with small children. Baby playmats come in different colors and may include different activities for babies - from kicking and touching to hearing various sounds and seeing different shapes and colors. Playmats are not just for toddlers. As the child is growing, he or she can play with toys, exercise and do anything on a comfortable playmat that provides a comfortable cushion from the hard floor surface and protects the child during the learning to walk stage.

For little boys and girls who are in their crawling stage or learning to sit or walk, a cushy and soft foam floor mat is an excellent present for many reasons. Foam floor mats are easy to clean (just wipe the mat) and floor mats for kids don't shed like most rugs. Hypoallergenic floor mats for babies and toddlers are great for kids prone to allergies. The soft cushion is comfortable for tots who are learning to walk and make a nice area to play on. Premium Stylish Foam Floor Mat provides a nice exercise area where kids and their parents can play or do yoga or any other fun activities.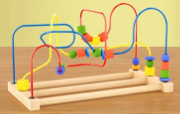 Best developmental gifts for children, such as the Bead Maze can be a source of fun and learning experience for a little girl or a little boy. The right toys for tots can help toddlers to gain more control over motor skills. Bead maze activity cube, for example, makes a perfect present for a young child as it can help the little boy to gain better control over small movements. Why is a Bead Maze a good gift for toddlers? Parents can use the Bead Maze to help the child learn different colors and shapes. By moving the beads from one point to another, a child can gain better control of his hands. Some Bead maze cubes come with suction cups that help to keep the toy stable as the child is playing. Inexpensive and useful gift such as a Bead Maze can help to keep the little boy or little girl busy and focused for some time, and gives the parents a little time to get things done while the baby is playing.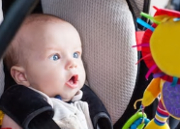 Another thoughtful gift for a baby boy is a car seat toy. For longer trips children like to be entertained and finding a gift that can keep a little boy happy can make trips so much easier for the whole family. Children under two years of age enjoy to see bright colors. During this age, kids are developing all their senses, including tactile. Kids like to touch different surfaces and materials. Kids are also teething during this age and like to put everything in the mouth. Teething toys are popular gifts for boys and girls under two years of age. Having a variety of different toys in the car with a baby is always a good idea. There will be less crying and more playing. When selecting a teething toy for a baby, it's important to find the safest and highest quality toys that are safe for kids to put in their mouth. Only buy teething toys from reputable companies that specialize in producing safe and high quality products for children.



Every child has a talent! Parents, grandparents, teachers and other people involved in the child's development can help the child to find that skill that makes your child so unique and special. Encouraging your child to develop his or her natural interests, be it painting, drawing, writing, sculpting, dancing, or anything else that your child truly enjoys and can spend hours doing is so important. Enabling your child to develop in the natural direction where the child's inner talents are leading will help him or her to be confident, to overcome life's difficulties by getting the strength and energy from something that they really enjoy doing. With some kids the talent can be very obvious. Your child may express an interest in art or in mechanics or anything else loud and clear from a very young age, sometimes as young as two years old. Other kids may need more time and trying out different hobbies and activities before they find something that they truly enjoy. Forcing a hobby or an activity on a child usually does not work. If you try to force your child to take piano lessons that the kid really is not interested in, there will not be much benefit and you will most certainly accomplish a high level of resistance and a strong dislike of music if you continue to insist that the child take the piano lessons that he or she has no interest in. Let your child experience different situations, take him to a museum, to a show, to a concert. Let the child pick a place where he or she wants to go. Help your child to figure out what kinds of things he or she truly enjoys. If you find the area where your child is displaying a true interest, do not stop here. You are on the road to finding the child's natural talent and the road may lead you in many directions before you reach the destination. Get the books on the subject of your child's interest, be the enabler who provides your child with the instruments that he or she needs to succeed on this journey. If your child enjoys painting, provide him or her with different painting tools, the canvas, the paper, the paints of different kinds, and see what happens. Even if this is just a quickly passing hobby, your child will gain new skills and knowledge along the way. You never know how trying something new may affect the child. Show genuine interest in what your child has as a hobby and support him or her. Encourage, provide the necessary tools, expand the child's horizons and both of you will have a happier and more fulfilled lives as a result. Help the child to find his or her interest and in return you will have a happy, and confident person who will always have a special place in his or her heart for you as a person that helped them to find their way in life and helped them to discover that special talent that each and every child is born with.